WORKSHOP | Gamification
Driving customer engagement to future-proof business success and survival or die? 
It is the question of thousands of businesses in this competitive ocean of businesses. What if we told you the market is also a playground, and you have to play to win the game? Once you master the games in that playground, you stand out from the crowd and be the leader on the battlefield.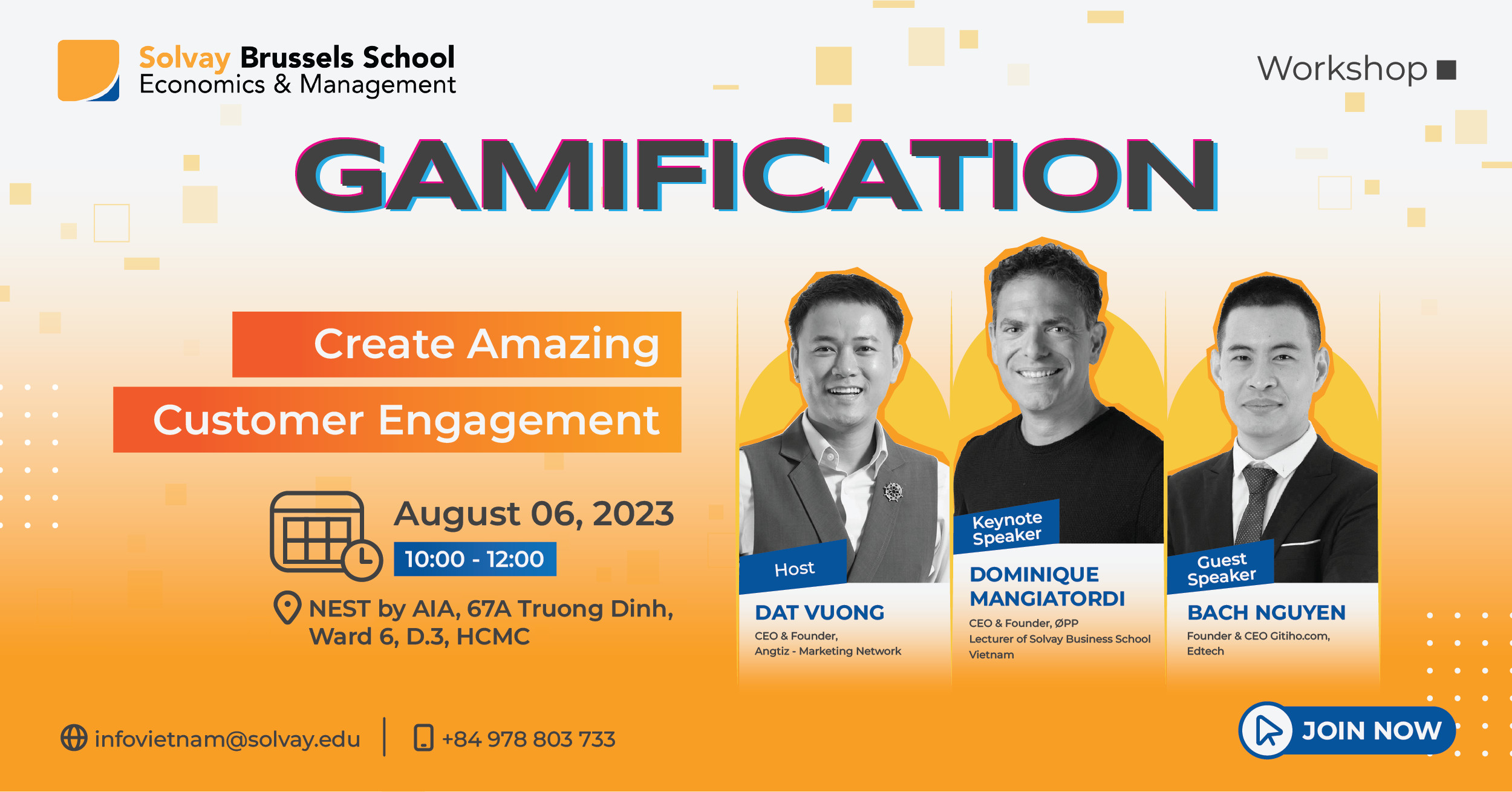 These thoughts have inspired Dominique Mangiatordi, founder of ØPP Startup. ØPP is a leading startup in Gamification in Europe that develops games for Customer Engagement & Customer Experience.
Dominique together with his ØPP Creative Team invests in projects that create engagement in HR processes, bringing fun, transparency, a sense of progress, and social dynamics. His clients include L'Oreal, Inbev, Delhaize, SwissLife, BNP Paribas, Cognizant, Ubisoft, Macif, etc.
That "gamification game" is hard for many Marketing & Sales teams. But Prof. Dominique's nailed it and Vietnamese Game Creators are also joining the playground to satisfy their customers.
So do you want to find out how GAMIFCATION works? Especially directly from him: Prof. Dominique – one of the leaders in the gamification field from Europe and also from real case studies of leading digital businesses in Vietnam.
Join us for the upcoming workshop with Prof. Dominique as the key speaker!
Topic: Gamification: Create Amazing Customer Engagement
Time: 10:00 – 12:00, Sunday, August 6, 2023
Venue: Floor 3rd, Nest By AIA, 67A Truong Dinh, Ward 6, District 3, HCMC
Entrance: entrance with invitation and registration confirmation
Register here:
https://forms.gle/F4kPQ33pY94qAdad7
Keynote speaker: Dominique Mangiatordi, CEO & Founder – ØPP
Guest speaker: Mr. Bach Nguyen, CEO & Founder –
Gitiho.com
Host: Mr. Dat Vuong, CEO & Founder – Angtiz
Don't settle for less! Innovate the best customer engagement with gamification! Register now and secure your spot!
—–
https://solvay-mba.edu.vn/
+84 978 803 733
infovietnam@solvay.edu