Graduation MBA16 & MPM9 in Hanoi
On April 11, 2019, the International School of Economics and Management, the National Economics University, and Solvay Brussels School celebrated a ceremony for 55 students of the Master of Business Administration intake 16 and  Master of Public Management intake 9. 
Attending the ceremony were Prof. Dr. Tran Tho Dat (Rector of NEU), Prof. Michel Alle (Dean of SBS), Ms. Vu Thi Thuy Duong (Representative of the French-speaking Belgian Community in Vietnam), Prof. Tran Van Nhung (Former Deputy Minister of Education and Training, former Secretary General of the Council of State Professors), together with business agencies, press agencies, lecturers of ISME, and all students of the Vietnam-Belgium Master Program.
The Vietnam Belgium Master Program is one of the earliest and most successful international training cooperation projects in Vietnam. During the past 20 years with the efforts of the two schools, the knowledge and experience of management from Europe has been transferred into Vietnam. 
The Vietnam Belgium Master Program has made significant and significant contributions to the development of Vietnam's education. More than 1000 students have earned a master's degree in Business Administration and Public Management. This is a valuable knowledge and management resource for many businesses, corporations, state agencies of Vietnam, and international organizations.  
In this formal graduation ceremony, Prof. Tran Tho Dat – Rector of NEU had enthusiastic remarks for new masters "Our country has entered a group of middle-income countries for nearly 10 years and is trying to transform itself to distribute further development, closer to the modern market economy in a constantly moving world full of opportunities and risks. Profit is a measure of good business performance but does not measure the benefits of public goods. 
If the market economy is based on the invisible hand of the market, there will be problems such as environmental pollution, and the gap between rich and poor is too great … Perhaps one of us also wants to be happy. Therefore, it is necessary to have the hands of businessmen and managers. We want you to be entrepreneurs, talented managers, happy and responsible for making our country a country that is not only richer but also happier."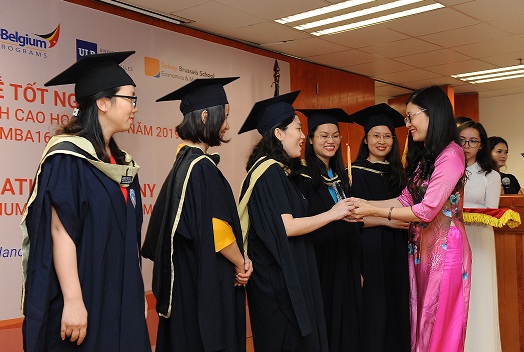 At the same time, the leaders of the two schools also recognized the efforts and creativity of the staff of the ISME in managing the program management. Join the graduation ceremony as a parent of a graduate student, Prof. Tran Van Nhung had a moment of sharing and feeling full of emotion with all the teachers of the two schools, students, and families. 
To express their gratitude to the program, the new masters respectfully presented meaningful souvenirs and fresh flowers to representatives of the two schools, ISME and the Belgian – French Community in Vietnam. The graduation ceremony closed but images filled with joy, and happy smiles with family, friends, and colleagues still kept in mind of every new master.